" Got tear troughs done yesterday by Jill. What an amazing job, can't believe the difference. Would highly recommend. "
---
Pharmacology of Botulinum Toxin A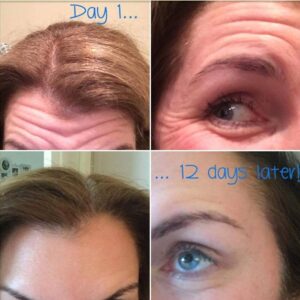 Botulinum Toxin A (Botox®, Bocouture®) is injected in minute prescriptive amounts to the forehead, glabella (number elevens between the eyes), crow's feet around the eyes, and lower face.
Botulinum Toxin A works on the nerve synapse by temporarily reducing the movement of facial muscles, lasting on average between 3 and 4 months.
Bocouture® is a prescription only medicine and is the only toxin licensed to be used by a trained Aesthetic Practitioner for the for above areas to temporarily improvement in the appearance of moderate to severe lines in adults less than 65 years old. The GMC (General Medical Council) and NMC (Nursing & Midwifery Council) state that Botox® must only be prescribed following a face to face consultation before any wrinkle reducing injections can be carried out.
Jill Best will carry out a full medical face to face consultation prior to any facial injections to reduce wrinkles.
Call or text 07527332977 to book your consultation